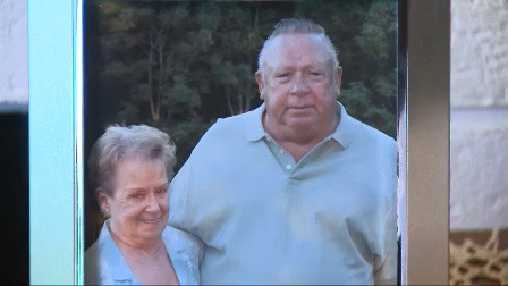 FOXBOROUGH, Mass. —
A Foxborough family said a home medical alert system failed their loved one and didn't send help when a woman fell and died.
 "The beauty of CareCallingNow system of a daily call  each and every day, which is responded to on your normal phone, is that there is NO specialized EQUIPMENT TO REPLACE"
On July 17, Paul McDonald found his wife of 55 years on the bathroom floor.
"I went over to her, I tried to wake her up, she wasn't moving," said McDonald.
Concerned about their parents, both in wheelchairs, the MacDonald children were paying for an auto-alert lifeline system.
Without even pushing a button, the system is designed to sense falls, speak with the person through an intercom, and send emergency help if needed.
But last month, the family said the system failed.
After Elizabeth took a fall in the bathroom, no one responded, no one came. She died that night. The cause is unknown.
"When we need Lifeline, they are not there. And they don't say that on their ads on TV," said McDonald.
"We bought Lifeline for peace of mind, so that she'd be safe. We all feel that Lifeline failed us," said son-in-law Bill Holmes.
In previous medical emergencies Lifeline did work.
The older system required a push of a button.
The family thought the auto alert upgrade would be even safer.
"They are selling a product that's not working all the time. They say it will protect her and it didn't protect her," said McDonald.
But in a statement to News Center 5, Philips Lifeline said "Philips Lifeline with AutoAlert detects more than 95 percent of falls and can automatically place a call for help if it detects a fall. However, as noted on the Lifeline web site, AutoAlert does not detect 100 percent of falls, as certain events may not register as a fall. We advise customers, if they are able, to always push the device alert button if they need help."
But the family insisted they were never given that information.
They said Lifeline may not have saved Elizabeth, but getting the help she needed could have made a difference.
"If we were notified we could have had time before she passed away," said Holmes.
In their statement to News Center 5 Philips-Lifeline sent their condolences to the family. And even though they found the device to be in working order, they said an investigation is ongoing.
Article from http://www.wcvb.com